Join us at the Grants Pass Market for BBQ from 11:00 AM to 2:00 PM– rain, snow, sleet, hail or blazing sun.
Homemade Baked Beans (Available Hot every Saturday at Grants Pass)
Sandwiches
Toasted Pub Roll w/Garlic Butter, Cartwright's BBQ Sauce, Tri-Tip or Chicken Breast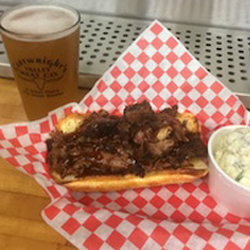 Ribs Available in 1/2 or Full Racks
Tri-Tip and Chicken are Available By The Pound or Sandwiches! We also take orders for our delicious smoked ribs during the week!