Cartwright's Market supplies locally-sourced, natural, and organic produce and groceries to the Grants Pass area. Our grocery store is known for specialty foods that showcase local and seasonal Oregon ingredients. Stop by today to shop our impressive selection.
Our grocery department carries a wide range of items to help you create delicious meals. Looking for new ideas? Check with our friendly, knowledgeable staff for some great cooking suggestions.
For some unique flavors, stop by our delicatessen for quality, in-house smoked meats and jerky, as well as fresh cut sandwich meat, bacon, and sausages. Or drop by our wine and beer section, which features an extensive selection of classics, as well as many locally brewed and bottled beers.
We're proud that our grocery products are sourced from the surrounding areas. In addition to locally sourced groceries, we carry some of your favorite international foods. Our customers appreciate our high standards, our huge variety, and of course, our helpful staff. Come shop with us today.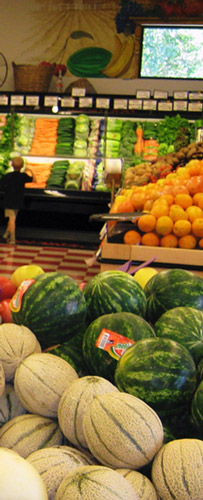 Fresh, Organic, Local Produce You'll Love
Our natural and organic produce include some of the juiciest local berries, healthiest greens, and heartiest root vegetables. We work with local growers, such as Wandering Roots Farm in the Rogue Valley, to grow local organic vegetables, including tomatoes, cucumbers, lettuce varieties, and winter squash.
At Cartwright Market, we like delicious surprises. That's why every weekend our grocery store features tasty samples for our customers to try some of our newest products. Come in any Saturday or Sunday to sample some of our finest new grocery items.
For your convenience, Cartwright's Market offers weekly specials. We also come up with exciting recipes that we invite you to try.
Have a wedding or special event coming up? We can provide custom catering for 200 guests or more. Ask our staff for details.