Why Buy Our Locally Sourced Seafood?
Many of our customers make the extra effort to get their fish from our market because of the very fact that we get our seafood from local sources. But what exactly is so great about locally sourced seafood? The following are a few reasons why you should buy our locally sourced seafood:
You'll get fresher tasting seafood — Seafood that's shipped to our market from a local area is going to be a lot fresher than seafood shipped from across the country for obvious reasons. While seafood that's imported from other areas can be preserved by being frozen, it simply won't be as fresh and you'll most certainly be able to taste the difference. Imported seafood may not be as healthy either since there's more risk of bacteria growth, which could cause potential food poisoning.
You'll support sustainability — Seafood that's been sourced from other countries may have been obtained while potentially violating environmental rights issues or even human rights issues. When seafood is imported, these issues cannot be regulated. When you purchase locally sourced seafood, you can be confident in the fact that the seafood was caught using sustainable fishing practices.
You'll support the local economy — Wouldn't you rather support local fishermen from Oregon than large fishing corporations from across the country or even from another country? By purchasing locally sourced seafood, you'll be investing in our local economy, which will help to ensure that you can keep getting great tasting fish.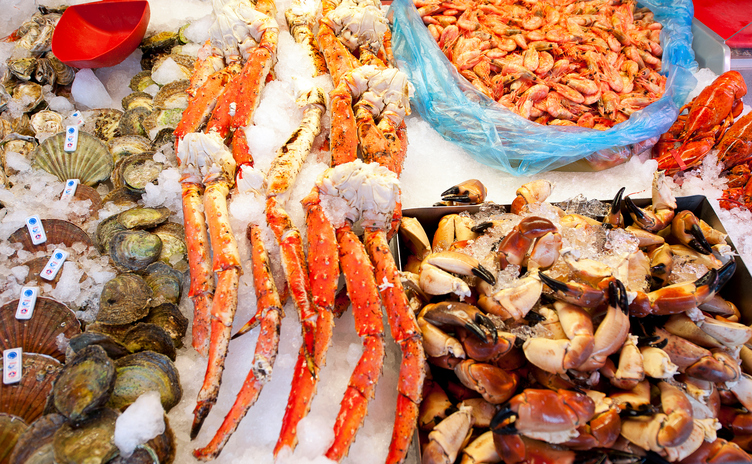 We offer a wide selection of seafood that's sourced from local fishermen to ensure that our seafood is as fresh as can be. It means that you will find different types of seafood every day, many of which are dependent on the season.
We also offer wild-caught and farm-raised fish and shellfish, all sustainably sourced and produced using the most environmentally friendly practices. 
If you want to pick up some seafood for dinner, then make sure to visit us at Cartwrights Market.